Current Exhibition
April 21 (Fri) - June 25 (Sun), 2023

*The museum is closed on Monday
The Charm of
Sancai

, Three-color Glazed Ware

─Treasures of the Silk Road

Three-color glazed ware or Tang sancai are characterized by gorgeous decorations and vibrant colors. They are known as one of the prominent examples of Chinese ceramics. During the Tang Dynasty (618-907), sancai were created as burial goods to furnish the tombs of royal aristocrats. Today, they are also highly valued as artworks that represent the East and West cultural exchange through the Silk Road. The exhibition presents such international world of beauty with a focus on Tang sancai. We welcome you to a showcase of figurines shaped into lively figures, camels and horses that conjures travels across deserts and oases, and vessels that were influenced by West Asian jewelry and metal ware.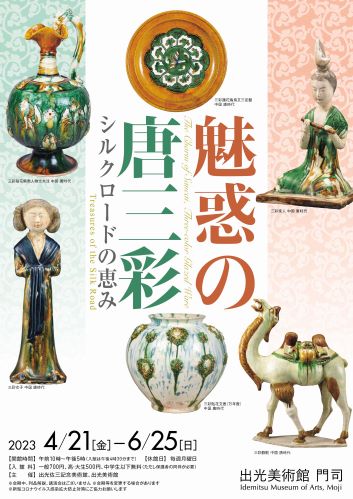 Information
Hours
10:00 a.m.-5:00 p.m. (Entrance until 4:30 p.m.)
Closed
Monday (The Museum will be open when Monday is a national holiday.),
the year-end and New Year holidays, and the change of exhibits.
Address
2-3, Higashi-minatomachi, Moji-ku, Kitakyūshū-shi,
Fukuoka, 801-0853
Admission
Adults: ¥700
High School and College Students: ¥500
Junior High School Students or Younger: Free (with Parent or Guardian)

* ¥200 Discount for Persons with Disability (with Presentation of the Physical Disability Certificate and Free Admission for one Caretaker)
Transportation
A 8-minute walk from JR Mojikō Station.
Guidelines for Enjoyment of Exhibitions
The museum visitors are reminded of the following for the enjoyment of the Museum by the other visitors.
Do not touch the exhibits and the display cases.
Do not use the fountain pens or the brushes which may stain the exhibits.
Switch off and do not use the mobile phones or activate the silent mode.
Do not take photographs.
Do not smoke.
Do not eat or drink any food or beverages brought in from outside.
Do not engage in acts or behavior which may disturb or annoy the others.
Do not bring in any dangerous materials.
Leave the umbrellas at the umbrella stand.
Do not bring in any animals and pets, except for guide or service dogs.