Current Exhibition
November 18 (Fri) —December 18 (Sun), 2022

*The museum is closed on Monday
Matsuo Bashō and the Art of the Genroku Era
Matsuo Bashō (1644-94) is a haiku poet active in the first half of the Edo period, born in Ueno, Iga province, who became a master haiku poet in Edo. Through travels to the areas traced in Oku no Hosomichi (Narrow Road to the Deep North) and other later trips in life, Bashō searched for a high literary quality in haiku. His death in Genroku 7 (1694) in Osaka coincides with the time when Genroku culture was just blooming among the townspeople in the kamigata (Kyoto-Osaka) area. This exhibition will display calligraphy and paintings by Bashō, together with artworks by those who admired him, showing the representative arts and crafts of the Genroku era.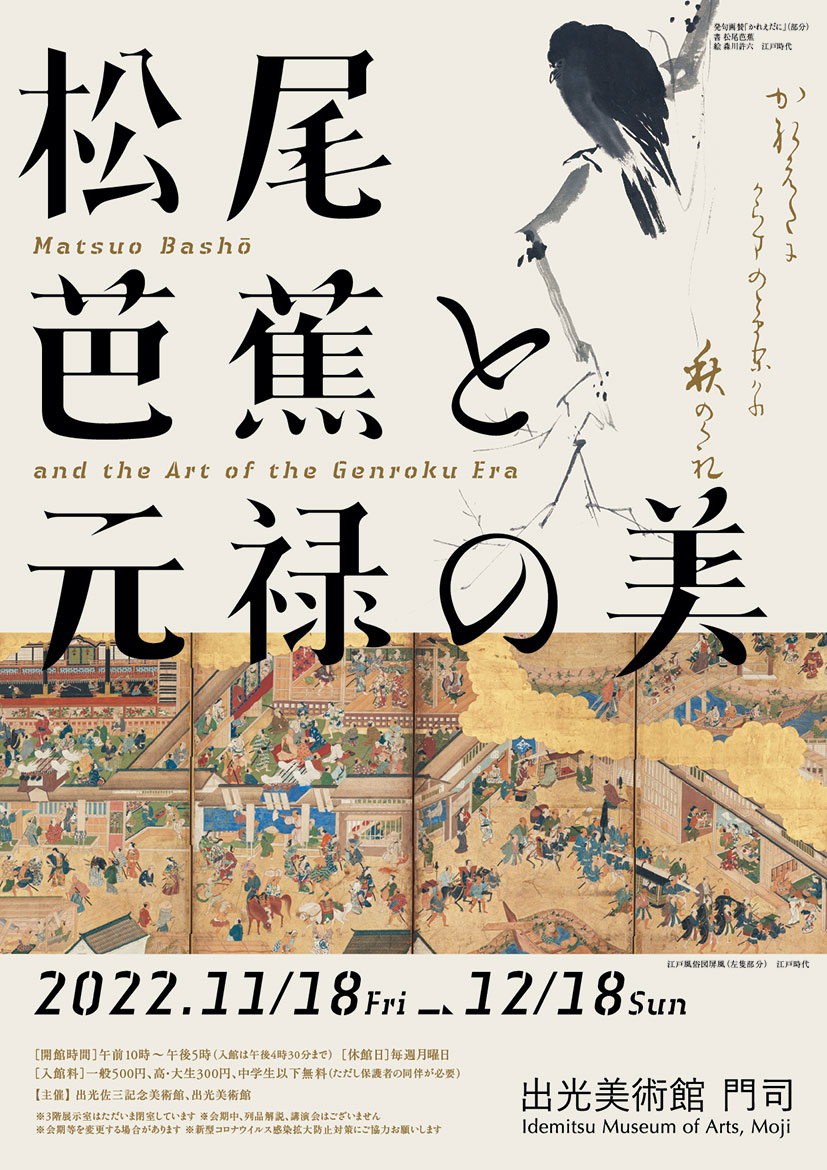 Information
Hours
10:00 a.m.-5:00 p.m. (Entrance until 4:30 p.m.)
Closed
Monday (The Museum will be open when Monday is a national holiday.),
the year-end and New Year holidays, and the change of exhibits.
Address
2-3, Higashi-minatomachi, Moji-ku, Kitakyūshū-shi,
Fukuoka, 801-0853
Admission
Adults: ¥500
High School and College Students: ¥300
Junior High School Students or Younger: Free (with Parent or Guardian)

* ¥200 Discount for Persons with Disability (with Presentation of the Physical Disability Certificate and Free Admission for one Caretaker)
Transportation
A 8-minute walk from JR Mojikō Station.
Guidelines for Enjoyment of Exhibitions
The museum visitors are reminded of the following for the enjoyment of the Museum by the other visitors.
Do not touch the exhibits and the display cases.
Do not use the fountain pens or the brushes which may stain the exhibits.
Switch off and do not use the mobile phones or activate the silent mode.
Do not take photographs.
Do not smoke.
Do not eat or drink any food or beverages brought in from outside.
Do not engage in acts or behavior which may disturb or annoy the others.
Do not bring in any dangerous materials.
Leave the umbrellas at the umbrella stand.
Do not bring in any animals and pets, except for guide or service dogs.